On the chilly Thursday morning of January 9th Wesley Kindergarten in Gongshu kicked off its third New Year's concert at the Fengma in Theatre in Xixi Impression City Mall. This concert marks the beginning of the New Year and is a welcome opportunity for the children to express themselves. This was Wesley's third New Year's concert and it was, as always, exciting and fulfilling!
1月9日上午,拱墅区唯诗礼幼儿园2020年第三届新年音乐会在西溪印象城丰马in剧场拉开帷幕。这是2020年新年伊始的值得所有人铭记的一天,也是全体唯诗礼小朋友"如何表达自己"的最佳呈现。从每位小朋友的自主参与,节目的自编自导,老师与家长志愿者的协同参与,无一不体现出唯诗礼致力于共建学习者社区的宗旨。转眼间,唯诗礼幼儿园已经走过了三个年头,每年的新年音乐会总是万众期待,精彩纷呈!让我们一起用照片记录下这充满喜悦和美好的时刻。
We have a person at Wesley Kindergarten who welcomes children to school every morning, who always wears a big smile upon her face, and loves to record stories of daily life to share with everyone. She is always enthusiastic, cheerful, and confident. She is our beloved Principal Louise. Principal Louise thanked each child for their dedication to their rehearsals and expressed how proud she was of their daily progress.
在唯诗礼幼儿园,有这样一个人。清晨,她会带着灿烂的微笑迎接每一位孩子的到来。放学后,她会用娓娓动听的语调录好听的故事与大家分享,她热情、开朗、自信,她就是我们人见人爱的Louise园长。Louise园长感谢每一位小朋友认真对待每一次排练,为他们的每一个小小进步感到无比自豪。人的一生中有许多终身难忘的回忆,今天也将同样是一个创造惊喜的时刻,每一个小朋友的表现会让他们自己和爸爸妈妈还有老师们终身难忘!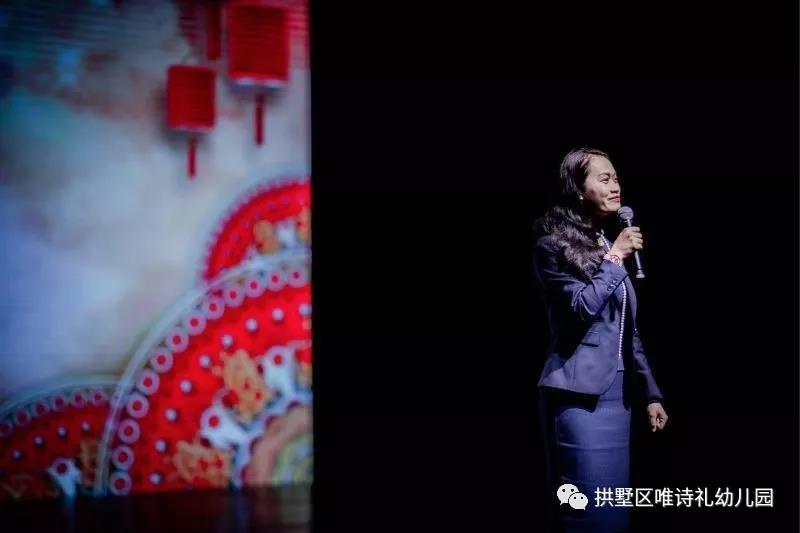 The children from class K2A wore Hmong outfits and opened the concert with the first performance, Sister Miao, allowed the children to take center stage and express themselves through a wonderful dance.
K2A的小朋友穿着苗族服装,带来了第一个节目——舞蹈表演《苗妹妹》!尽管是第一个出场,中班的小朋友丝毫不怯场,脸上洋溢着自信的笑容。
The little children of PreK-B used the beautiful songs to remind everyone of the blessing of the Chinese New Year. The little palms and tuanmengbao performed a lovely song and dance!
Prek-B班的小朋友们则用歌曲的形式向大家送上新春的祝福,小小的个子小小的手掌,小小的托班萌宝们用歌舞表演《新年好》祝愿在场的所有人新年快乐!
PreK-C children sang and danced to the song Silent Night Thoughts.
Prek-C的小朋友则带来了歌舞古诗——《静夜思》,萌趣可爱的表演一样演绎出李白诗词的韵味。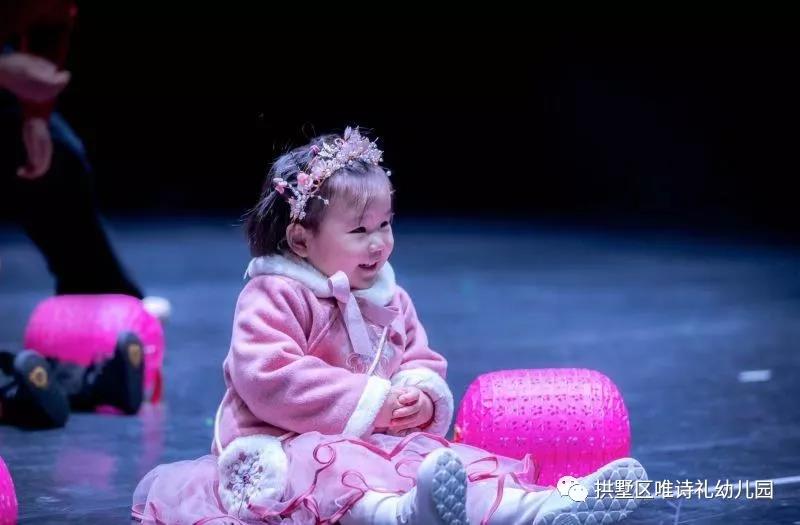 K2C was a huge hit as soon as they walked onto the stage! They carried African drums and performed the famous We Will Rock You song to much applause.
K2C的全体宝贝们一上场就轰动啦,他们一个个身背非洲鼓,带来了一首充满异域风情的非洲鼓表演——《We will rock you》!
The Chinese dream, the children's dream, is also the dream of the future. Although all of the children are small, they are ambitious and everyone could see a lovely group of children dream big. The children of Pre-K D brought us a wonderful performance of Chinese Little Dream Baby.
中国梦,孩子的梦,也是未来的梦。仁义礼智信,传统文化齐发扬,人儿虽小志气大,人见人爱小梦娃。舞台上来了一群追梦的孩子,原来是Prek-D的小朋友带来了舞蹈表演《中国小梦娃》!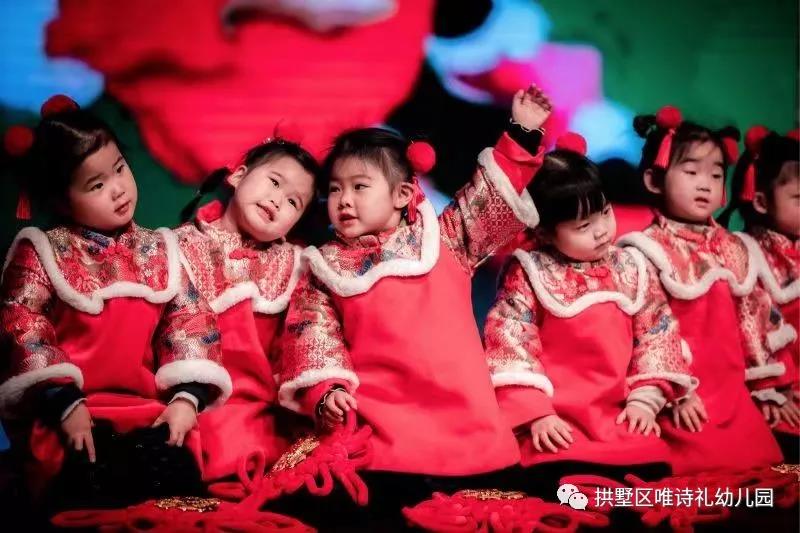 PreK-A's children worse adorable little animal costumes and performed Zodiac for everyone.
Prek-A的小朋友一个个穿着可爱呆萌的小动物服装,为在场所有人表演了《十二生肖》。作为托班的他们,表现实在可圈可点!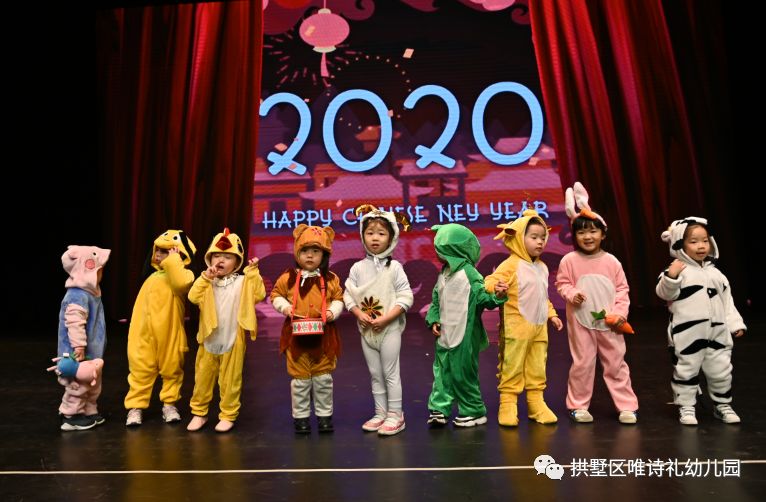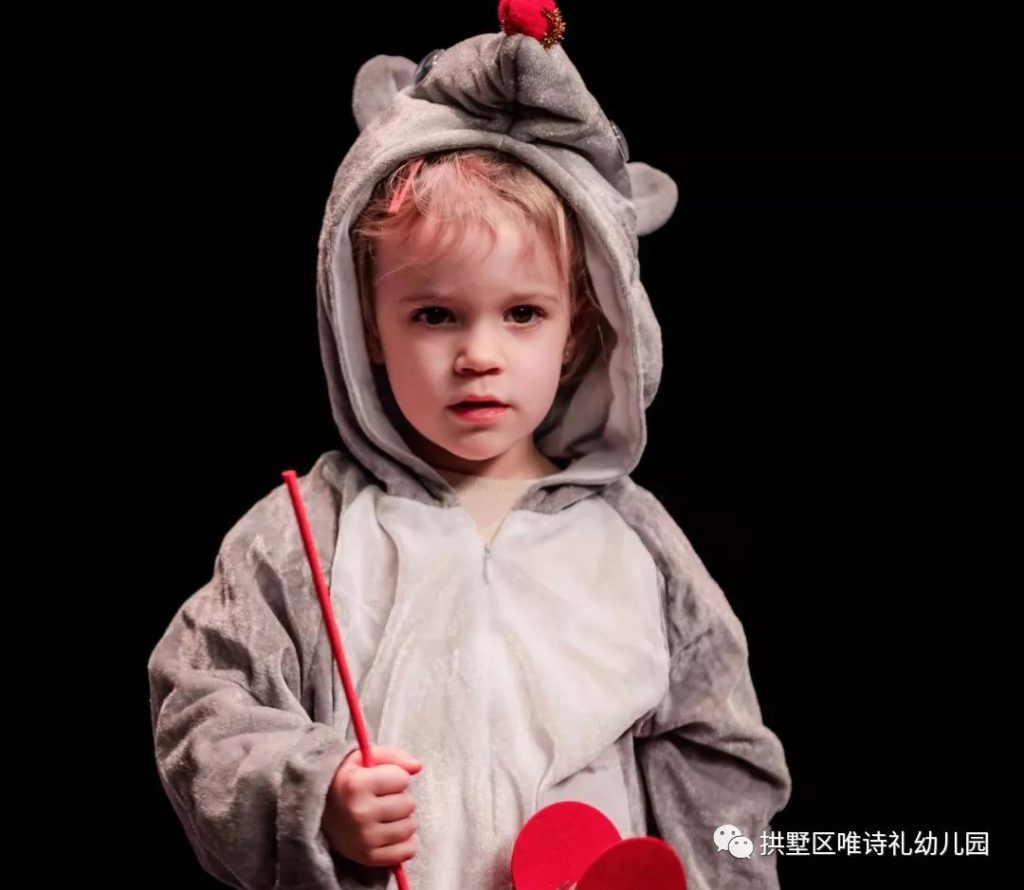 At Wesley Kindergarten there is a dance club that teaches superb dancing skills. This class had a great performance as they brought us a dynamic dance of Jing Wu Men and a very well-choreographed hip-hop style dance. They also treated everyone to a "Cow and Little Dragon Man" dance. Let's take a look!
在唯诗礼幼儿园,有那么一个自编自导,舞技高超的舞蹈社团,他们不仅带来了动感十足的《精武门》和超燃超炸的hip hop表演,一群会跳舞的小奶牛还带来了精彩的舞蹈串烧《奶牛舞+小龙人》!让我们一起来看看吧~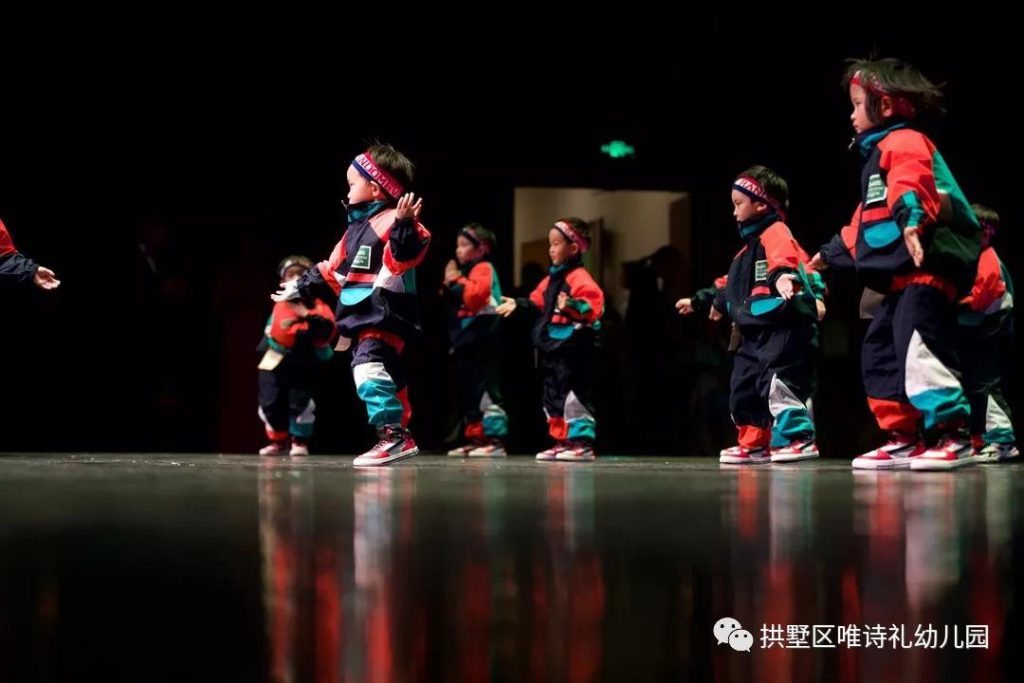 In the 5,000 year long history of the Chinese nation we listen to ancient rhyme and rhythm and read beautiful ancient texts. All of the children from K1A performed a rendition of Let It Go from the Disney movie Frozen.
在中华民族五千年的历史长河中,我们聆听古诗书韵,诵读千古美文。K1A的全体宝贝们通过《孔子爷爷➕let it go》的表演。带大家一起坐上时光穿梭机,重温经典的同时,感受冰雪带来的奇妙景象!
In the old days of Acacia, one could pick a handful of red beans to allow love to flow into the heart during travels. K3A girls brought us Acacia Yin. At the same time, the K3A boys presented their English picture play Christmas at the Zoo. The children of K3A wrote and directed this performance themselves!
在相思的日子里,采撷一把红豆,让爱更近一点,让相思跟着心一起远行。K3A的女生们带来了《相思吟》。同时K3A的男生们也呈现了他们在"故事"探究单元中的英文绘本剧《Christmas at the zoo》。值得一提的是,这可是大班小朋友们自编自导的哦!
K1B's children used a fan as a prop to bring us the lovely performance of Perfect Fan coupled with beautiful music. It really was a wonderful performance!
K1B的小朋友们将扇子用作道具为我们带来表演《尽扇尽美》,配上动听的音乐,实在是美轮美奂!
Martial Arts have long been a part of the Chinese soul. For thousands of years, martial arts has been used as a national symbol of physical fitness and justice, and has strong cultural ties with ancient China. K2B's performance reminds us about some important qualities of martial arts – strength and independence.
武术是中国的精魂,千百年来,武术被作为强身健体伸张正义的民族象征,是极具东方气息的文化瑰宝。"少年强则国强,少年独立则国独立",K2B的全体宝贝们带来了最神气的剑术表演和最帅气的舞蹈!
The music enrichment class, which was only opened this year, was not to be outdone as they put on a great rendition of Little Red Riding Hood.
今年才开设的奥尔夫音乐社团也不甘示弱,带来了集体奥尔夫乐器表演《小红帽》!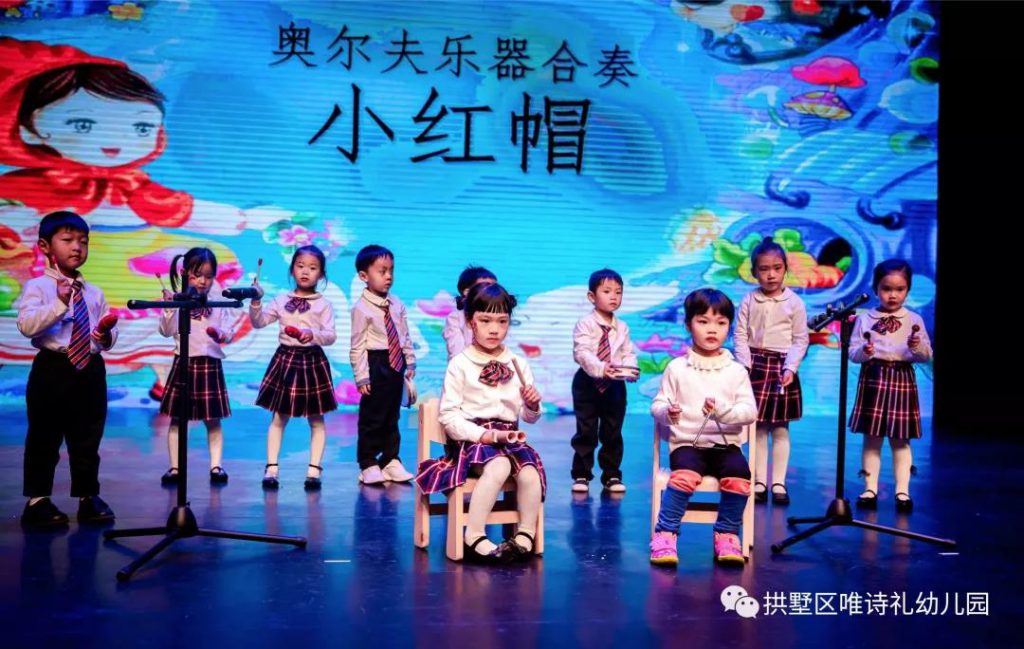 In addition to all of the children of Wesley Kindergarten at today's venue, Princess Aisha, Batman, and The Lion King, and many other mysterious characters came out today. It turned out that the children will entertain us with Something just like this.
今天的会场上除了唯诗礼的全体小朋友,艾莎公主、蝙蝠侠、狮子王还有好多神秘的人物都来到了这里,原来是K2A的小朋友要带来合唱《Something just like this》!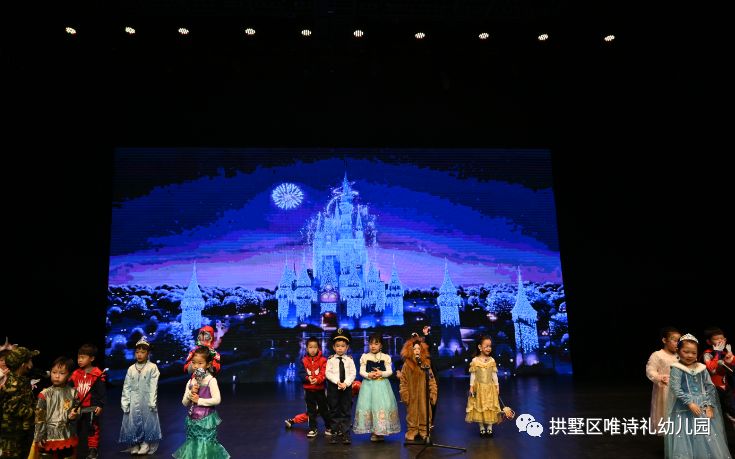 The K2C class showed us all a great performance that demonstrated a deep understanding of Chinese culture. They brought us a show of martial arts as well as a rendition of an Opera show called Little Flower Dan.
中华文化好精深,由我来传承,K2C的女孩子们变身为活泼俏皮、伶俐俊俏的小花旦,男孩子则成了挺拔帅气、英姿飒爽的小武生,为大家带来压轴的戏曲舞蹈《小花旦》!
2019 was a great year and full of happiness and development for everyone. We would like to take this time to express our profound gratitude to all of the parental volunteers that helped us. The success of a major event such as this New Year's party wouldn't have been possible without the cooperation of many people! It is because of the efforts of everyone involved that we were able to pull off another successful show. Thank you!
回首2019,这是令人欢喜的一年,是感动的一年。我们所有的小朋友、老师、爸爸妈妈因唯诗礼而相聚,共建学习者社区,共同成长。孩子远比我们想象的更加优秀,他们每天都在发生着微妙的变化,变得越来越勇于尝试、胸襟开阔、善于交流、全面发展。感谢为了新年音乐会而默默付出的志愿者家长,每一场大活动的顺利开展离不开所有家长志愿者的支持和配合。也因为有了老师和家长的共同努力,才让每一位唯诗礼宝贝都绽放最美的童年,做最好的自己!